The evidence of our French heritage is everywhere you look in St. Landry Parish. From our visitor guide en français, signs, newspapers, and menus to everyday phrases and our surnames, French culture and language are on full display here. Throughout the parish, it's very common to still hear both Cajun and Creole French being spoken today. Radio stations like KRVS and KBON feature programs such as Bonjour Louisiane and Rendez-vous des Cajun that are broadcast en français.
Part of the effort to keep Louisiana French alive in the area is evident thanks to NUNU Arts & Culture Collective, which is dedicated to creating a living French culture using a combination of art, music, dance, and the French language. NUNU, located in the town of Arnaudville, where one in four residents still speaks French at home, has recently been designated one of the first 12 "French Corners" in the United States. Offering French literature, a Table Française on the last Saturday of each month, and other activities en francąis, visitors and locals are always welcome.
La Table Française, which literally translates to "The French Table," are gatherings held throughout the parish where locals share conversation en français over a cup of coffee. Tourists and non-French speakers are welcome to join in.  On the last Wednesday of every month, a Table Française takes place at the Historic Heritage Park, Le Vieux Village in Opelousas.  Often, noted zydeco musician, Goldman Thibodeaux, drops in so you know music makes its way into the lessons.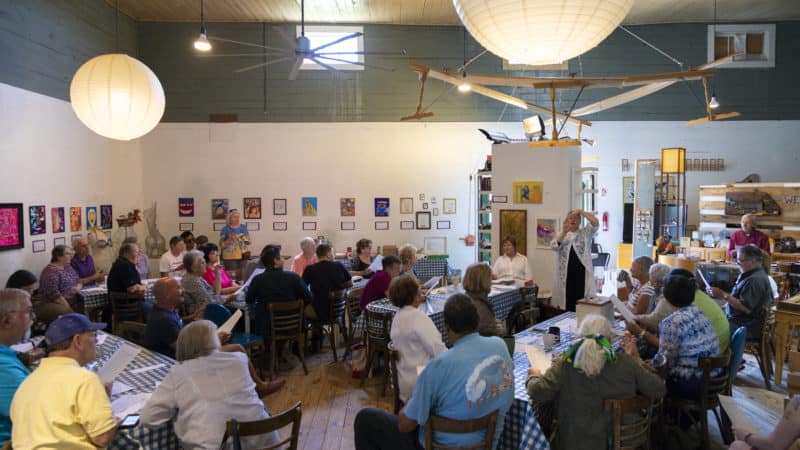 Also popular amongst these tables is for there to be a topic, much like Café Cajun which takes place every Friday morning at LSU-Eunice. Participants gather around the table and swap stories consistent with the chosen theme, first in French, then in English, for everyone to follow along.
While you're checking out the attractions on our website, look for the phrase "Ici on parlefrançais." It means "French is spoken here," which is a common sight since many of our attractions offer guided tours in French. In St. Landry Parish we have deep and proud ties to our French heritage, so come visit us and let us show you what makes us so unique.