Louisiana is often called the "Hollywood of the South". In the past 15 years, over 400 movies have had scenes shot within our diverse state. This is in part due to the up to 40% Motion Picture Production Tax Credit program for qualified in-state production costs. From blockbuster titles to B horror films, this opportunity has led Louisiana to set the stage for many a cinema moment and St. Landry Parish is no different. This incentive is not the only reason directors have decided to film here. Before there was a tax credit enabling more and more shows to find their way to our borders, there was the natural beauty of Louisiana nearly prehistoric in its appearance, as well as the sometimes unfortunate Hollywood perceptions of our residents.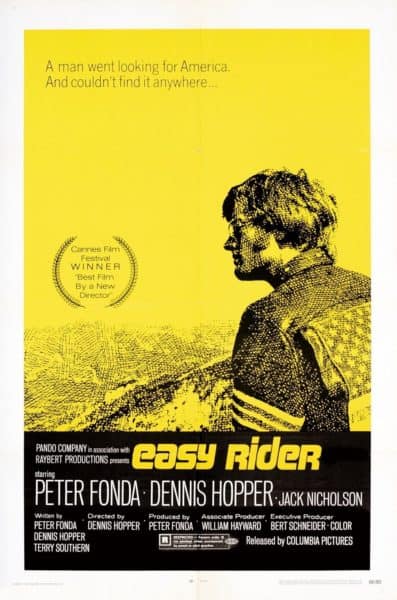 Nevada Smith, set in the 1890s American West and released in 1966, features a half white and Native American protagonist, Max Sand, set on revenge. Max tracks down one of his parents' killers to Louisiana, where he tricks the perpetrator into escaping a prison camp only to exact his revenge later in a swamp. The jail and swamp scene were filmed in Krotz Springs.
One of the more famous scenes filmed in Krotz Springs is the final moments of Easy Rider, the landmark film illustrating the social tensions of the 1960s and ushering in the New Hollywood era of filmmaking. At the end of the film when Wyatt, played by Peter Fonda, and Billy, played by Dennis Hopper, are shot, they are traveling along the distinctive levee following Highway 105. Krotz Springs residents, Johnny David and D.C. Billodeau, are featured in the scene. For those die-hard fans out there, you can visit the exact location here. If you want to learn more about the Johnny and D.C.'s involvement, check out this Daily World article about the filming.
Casey's Shadow, starring Walter Matthau of The Odd Couple and Grumpy Old Men, was released in 1978. This drama centered around a family's love of horses features lots of outdoor shots in Opelousas' countryside.
Passion Fish, a movie straight out of the 90s, has a scene in the now closed Slim's Y-Ki-Ki dance hall. With John Delafose singing and a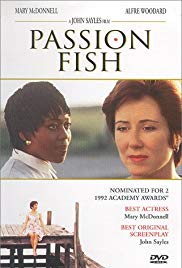 young Geno on drums, this scene highlights the upbeat fun of zydeco culture. The movie follows a recently paralyzed soap-opera actress who moves back home to butt heads with her equally strong-willed companion Chantelle, played by Alfre Woodard, who we see in the Slim's Y-Ki-Ki scene. Slim's had been open for nearly 70 years, and the snapshot of the intense energy of the zydeco dancehall scene is immortalized in this Oscar-nominated movie.
Just on the edge of the 90s and 00s is the movie Out of Sight released in 1998. This comedic crime comedy features larger than life actors George Clooney and Jennifer Lopez acting alongside each other. Clooney's character, Jack Foley, is a career bank robber and after breaking out of a Miami prison ropes U.S. Marshall Karen Sisco, played by Lopez, into diamond heist hijinks. Scenes from this movie were filmed in Krotz Springs.
From the era of movie tax credits in Louisiana comes the influx of the B horror genre taking advantage of our primordial swamps and eerie prisons. The 2009 movie, Zombie Farm, and the 2014 TV mini-series, Requiems, are two such examples that filmed in Opelousas and Krotz Springs, respectively.
Some movies align more naturally with St. Landry's culture including the HBO series Tremé that features the Pine Leaf Boys and prominent scenes of the Courir de Mardi Gras. Annie Talarico, played by violinist Lucia Micarelli, strays away from the New Orleans French Quarter, where she plays the violin for tips with her brother to experience a different kind of Mardi Gras near Eunice. The series is a drama that follows the effects of the aftermath of Hurricane Katrina on New Orleans residents.
Many Acadiana residents remember the excitement that built up over the filming of Secretariat, lining up to be extras in the Evangeline Downs Racetrack in Carencro that now lies unused behind the new FedEx Ground complex. Certain scenes from that heartwarming Disney film were also shot in Opelousas.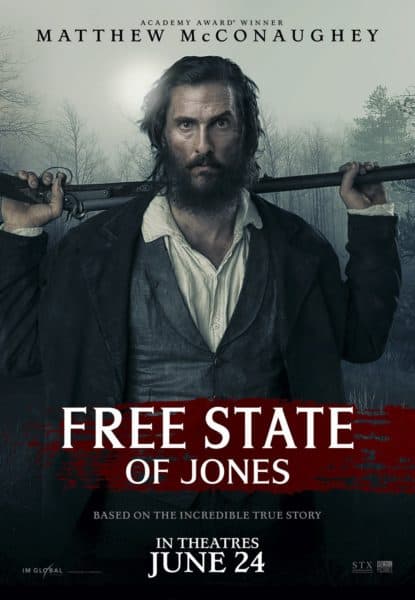 In 2015, filming for the movie Free State of Jones with Mathew McConaughey took place at Chicot State Park in Ville Platte. During this time, there was also a scene shot in Washington's historic Historic St. John's Episcopal Church. In the scene, Newton stages a retaliatory ambush after the hanging of 3 young boys. The interior of the church, where Newton strangles a Confederate soldier to death, shows the stark, whitewashed walls with original pews from 1874.
In 2011 and 2018, Anthony Bourdain also found his way to the culinary wonders of our slice of Louisiana. His show, No Reservations season 7 finale heavily featured Cajun Country. The travel writer found himself at a boucherie at Lakeview Park & Beach in Eunice. Right before his death, he filmed Parts Unknown season 11, episode 7, 'Cajun Mardi Gras', where he experienced Courir de Mardi Gras and ate with St. Landry Parish Tourism's own executive director, Herman Fuselier.
Apart from the locations filmed in here, there are also a number of St. Landry Parish natives who have made their appearances on television. Danneel Ackles, who was born in Lafayette but raised in Eunice, claims the city as her own. She has a recurring role in One Tree Hill and Supernatural. Teri Wyble has graced the big and small screens with speaking roles in Abaham Lincoln: Vampire Hunter (2012), The Walking Dead (2014), and Terminator: Genisys (2015). You can see a list of her appearances on Wikipedia. Another St. Landry native with an impressive resumé is Shellita Frank Boxie. This Plaisance High graduate is a stunt performer and double who has appeared in box office hits like Captain America: Civil War, The Hunger Games: Mockingjay- Part 1 and 2, and Baby Driver. Her TV career extends to well-known series like The Walking Dead and NCIS: New Orleans. For her full list of appearances, check out her IMDb page.
Here are some St. Landry Parish big screen honorable mentions:
Glenn Robin, Opelousas – Dear Theodosia (2009), The American Trap (2008), and K-Ville (2007).
Voorheis J. Ardoin – Mike Hammer (1958), 77 Sunset Strip (1958), and M Squad (1957)
Reather Hardeman – The Blood of Jesus (1941)
Layne Herpin, Opelousas – Looking for Alaska (2019), Hot Date (2017), and Tell Me Your Secrets (2019)
Lauren Mackenzie Heiken, Opelousas – former gymnast turned stunt performer and actress who works out of Los Angeles
Travis Fontenot, Opelousas – The American Standards (2008), Barracuda (2013), and False Hope (2007)
Photos from IMDb.com.
Mary Hawkins is communications manager for the St. Landry Parish Tourist Commission. Contact her at [email protected]